PLC hardening equipment For Scissors, Pliers , Duplex
August 30, 2019
1. Standard Configuration:
1). IGBT High frequency induction heating machine heating machine 2 sets
2). Control tank ( PLC and Closed-loop temperature control system) 1 set
3). Feeding machine tool 1 set
4). Discharging device 1 set
2. Heating process introduction:
Setting in the fully automatic mode, the workpiece into the tooling, the material position detecting sensor to the signal sent to PLC, PLC in accordance with the procedures set automatically. Delay 2 seconds after start up to ensure that the workpiece in place, and then control the motor operation by a mechanical fixture to the workpiece to the heating position, stay 1 second, self-starting induction heating power, and then wait for the temperature reaches the signal, infrared thermometer began to test the heating temperature of the workpiece, the temperature Upon arrival, stop and start the water heating device at the same time the temperature reaches the signals to PLC systems, PLC system receives signal timing spray time, spray time to stop water upon arrival, delay 1 second, the feed device to return to the in situ , delay 1 second, the cylinder pushing the workpiece and reset, this cycle is over, began to wait for the next workpiece is loaded. Over time, setting and feeding speed and distance can be adjusted according to actual needs of the scene. Heating to a certain number, the transmission device start the processed workpiece from the storage box into the specified location by conveyor belt, transmission time interval can be set freely.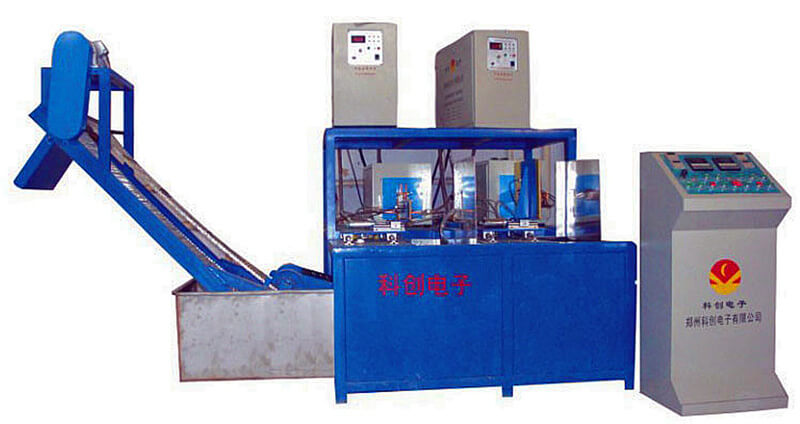 3. Features:
1). Reach to temperature, time double control
2). PLC control
3). Useful infrared thermometry closed-cycle control temperature system
4). Heating effort well, high efficiency, no oxide layer
5). Manual or auto control ways could be changed freely